Current Research Projects
BFN/WPAC Project: Production, logistics and commercialization of marketable pellets from underutilized low quality biomass in Canada
This research project is funded for four years (2019-2023) by federal government under the Canadian Agricultural Partnership. BBRG is collaborating with the Wood Pellet Association of Canada (WPAC) and BFN in this project. This project has four research tasks including:
Preprocess and pelletize low-quality biomass and generate pellet production data using the newly purchased pilot-scale pellet machine

, led by Dr. Hamid Rezaei

Develop and compare supply chain scenarios and identify the most cost-efficient supply chain scenario considering the possibility of integration with existing grain and wood pellet supply chains, led by Dr. Mahmood Ebadian

Develop best practices on safe handling and storage of pellets, led by Dr. Fahimeh Yazdan Panah

Identify a clear commercial pathway to make marketable pellets from low-quality biomass resources a success, including developing quality certification, led by Dr. Shahab Sokhansanj (PI of the project) in collaboration with Wood Pellet Association of Canada (WPAC) and BiofuelNet
Other member of the project team include Siduo Zhang, and three highly qualified personnel who will be supervised by Dr. Shahab Sokhansanj, Dr. Jim Lim and Dr. Anthony Lau at the Chemical and Biological Engineering Department, UBC.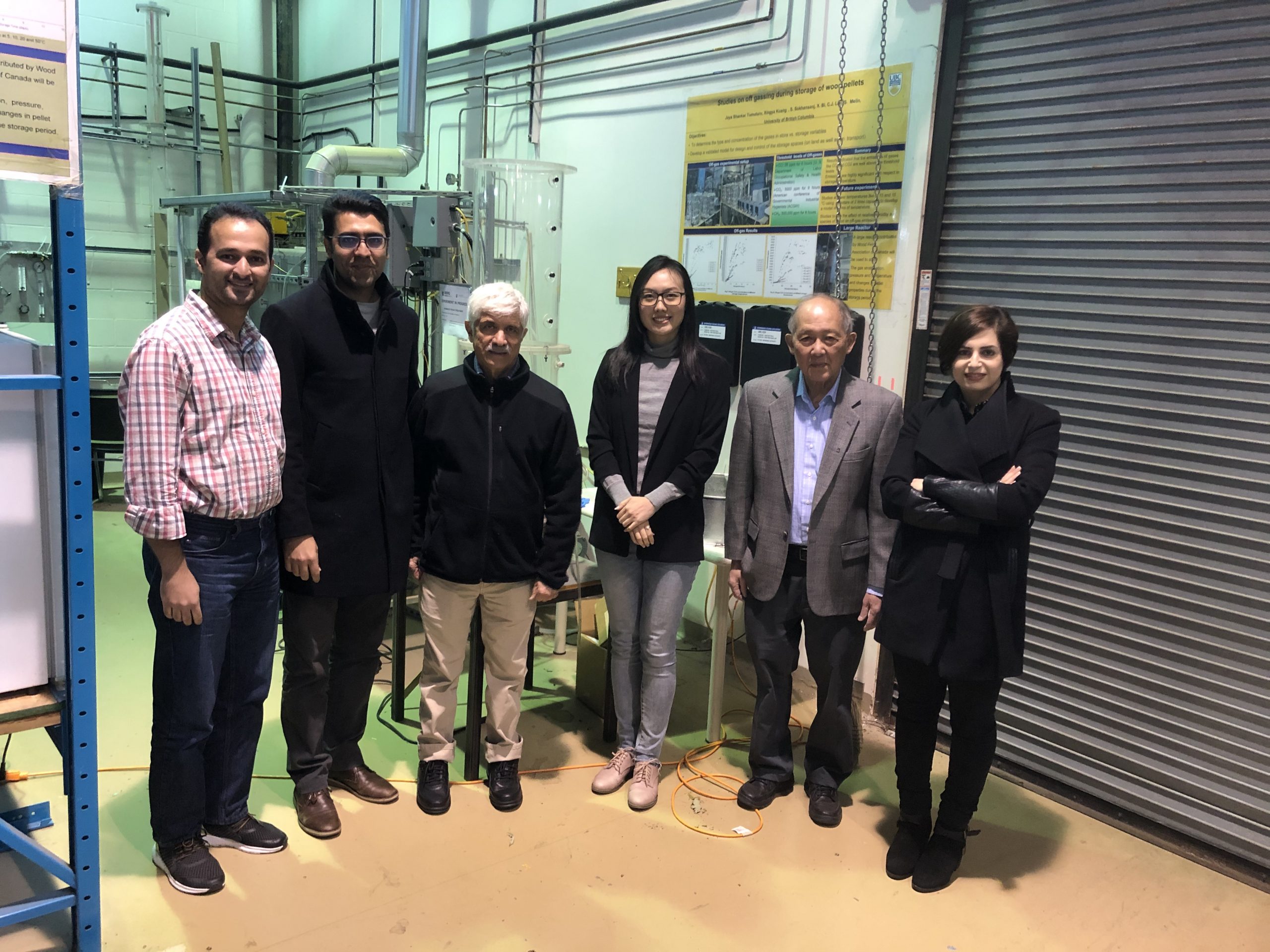 Left to right: Hamid Rezaie, Mahmood Ebadian, Shahab Sokhansanj, Siduo Zhang, Jim Lim and Fahimeh Yazdan Panah
Previous Research Projects
Developed the  internationally  recognized BBRG  (Biomass & Bioenergy Research Group) as a center of excellence in graduate research on biomass size reduction, drying and torrefaction, storage,  materials handling, and logistics modeling.

Developed  close research and development collaborations with relevant  industries, Wood Pellet Association of Canada, Forest Products Innovation (FPInnovation), BC Bioenergy Network, NORAM, Pacific Bio, Weyerhaeuser,  Western Forest Products Inc.,  CSQ, Pinnacle, Zilkha, Nexterra.

Developed strategic research programs and received fundings from various NSERC programs: Discovery Grant, Strategic Research Program, Collaborative Research & Development Program, Engage Program, Regional Opportunity Program; also from BC Ministry of Forest; from Natural Resources Canada,  from Agriculture and Agrifood Canada; from  British Columbia Innovation Council / Natural Resources and Applied Sciences Endowment Fund (NRAS) in collaboration with Dr. Saddler for biomass to ethanol production; from  the National Agricultural Bioproducts Innovation Program through Agricultural  Biorefinery Innovation Network (ABIN) Project (University of Western Ontario).

Established international research collaboration with  Oak Ridge National Laboratory, Idaho National Laboratory, Swedish  Biomass Technology and Chemistry Research Center at SLU (Umea), University of Georgia, University of Tennessee, Texas A&M, University of Arkansas, Forest Concepts of Auburn WA, Ecole Polytechnique Fédérale de Lausanne.

Led elements of networks on several Networks of Excellence including Biochar Net,  Central platform and Western platforms on Network for Canadian Research Integration & Innovation in Bio-Fuels Sustainability (CRIIB), and Eco Initiative.

In collaboration with Nexterra and the UBC Project Services, developed the research project "Feedstock characterization for the Nexterra CHP gasification system" in support of UBC Bienergy Reserach and Demonstration Project and the Living Lab Initiative.

Received awards: Maple Leaf award from Canadian Society for Bioenerginnering, Fellow American Society of Agricultural & Biological Engineering,  Fellow Canadian Society of Bioenergineering.

Within the past 4 years trained 3 doctoral, 5 M.Sc., 10 postodoctoral and visiting scholars, 8 undergraduate students (part time research); students and visiting scholars from Italy, Germany, U.S. , Japan, India, Iran, Chile, Columbia, China.

Organized and conducted a highly successful   two-day workshop at UBC (May 2011) on pelletization and torrefaction with more than 100 attendees from industry and research organizations.

Regularly hosts national and international visitors to the laboratory and to the Department

Served as President of the Canadian Society for Bioengineering and Chaired the Sea to Sky Branch of the Association of professional Engineers and Scientists in BC.